SumOfUs increases international pressure, thanks NOFF for our support
Thanks to you the salmon industry is feeling the heat.
In the last few months, you and 171,527 SumOfUs members have been calling on Australia's Big Three salmon companies to end the use of deadly seal crackers and shotguns.
Our community ramped up this pressure on social media sharing posts that raised awareness and demanded change that reached more than 2 million people. And when Canadian seafood giant Cooke announced its takeover bid of Tassal, over 14,000 of you emailed the CEO, Mr Cooke, calling for Australia's wildlife be protected.
In the lead up to Cooke's takeover of Tassal executives of the seafood corporation came face to face with a giant billboard on their way to work calling for an end to the use of explosives in the Australian fishery.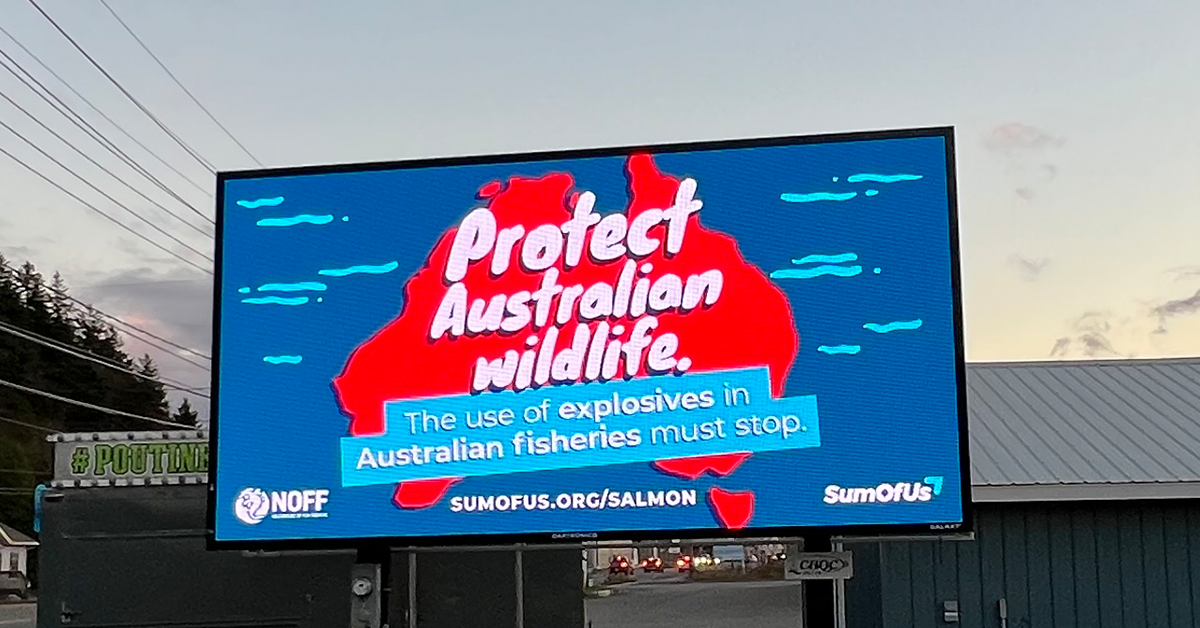 Thanks to SumOfUs members who chipped in this billboard made a splash in Saint John, Canada, near Cooke's headquarters.
Cooke noticed! Finally breaking its silence and complaining about the scrutiny its acquisition was receiving.
Then, in Australia as shareholders walked into Tassal's meeting to vote on the takeover they couldn't miss your eye catching message calling for an end to the seal slaughter.
Outside the Tassal shareholder meeting in Australia.
Inside the meeting our friend from Neighbours of Fish Farming stood up to speak truth to power and voice the concerns hundreds of thousands of people have from all over the world about the salmon industry's barbaric practices.
Then they handed the petition signed by you and 171,528 other SumOfUs directly to Tassal CEO Mark Ryan.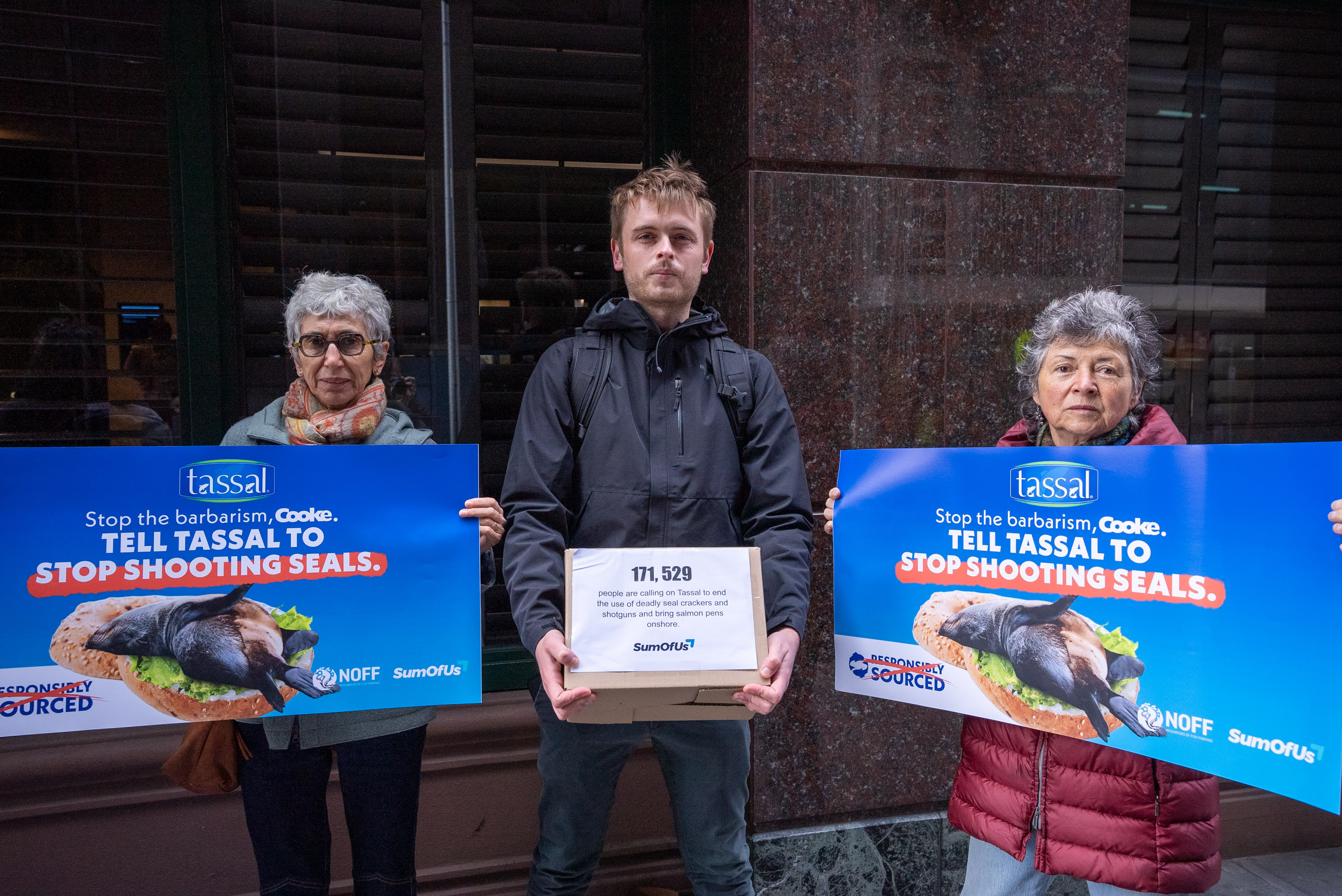 171,529 SumOfUs members signed the petition calling on Tassal to stop shooting seals.
In response to the spotlight the CEO of Cooke has come out slamming the "well organised groups" demanding the Australian salmon industry clean up its act.

Cooke's takeover of Tassal was accepted, but Cooke is now on notice that the world is watching. SumOfUs members across the world are ready to turn up the pressure even further to force Cooke to end the barbaric seal slaughter for good.

Can you share the news on social media to keep up the pressure on the salmon industry? Not on Facebook? No worries. Share the news on Twitter here.

Thanks for all that you do,
Nish, Nick and the team at SumOfUs
More information:
Foreign takeover of Tasmanian salmon farmer puts state's marine life at risk, activists say
The Guardian. 3 November 2022.
Acquisition sees seal-deterrent campaign reach Saint John
Telegraph Journal. 6 November, 2022.
Australian Group Says Cooke Acquisition Uses 'Sonic Torture' Devices On Seals
Huddle. 7 November, 2022.
Cooke Completes $1.5B Acquisition Of Australian Seafood Company
Country94.1. 21 November, 2022.
Barramundi and Kingfish on the menu for Tassal as it looks to branch out under Cooke
The Australian. 21 November, 2022.